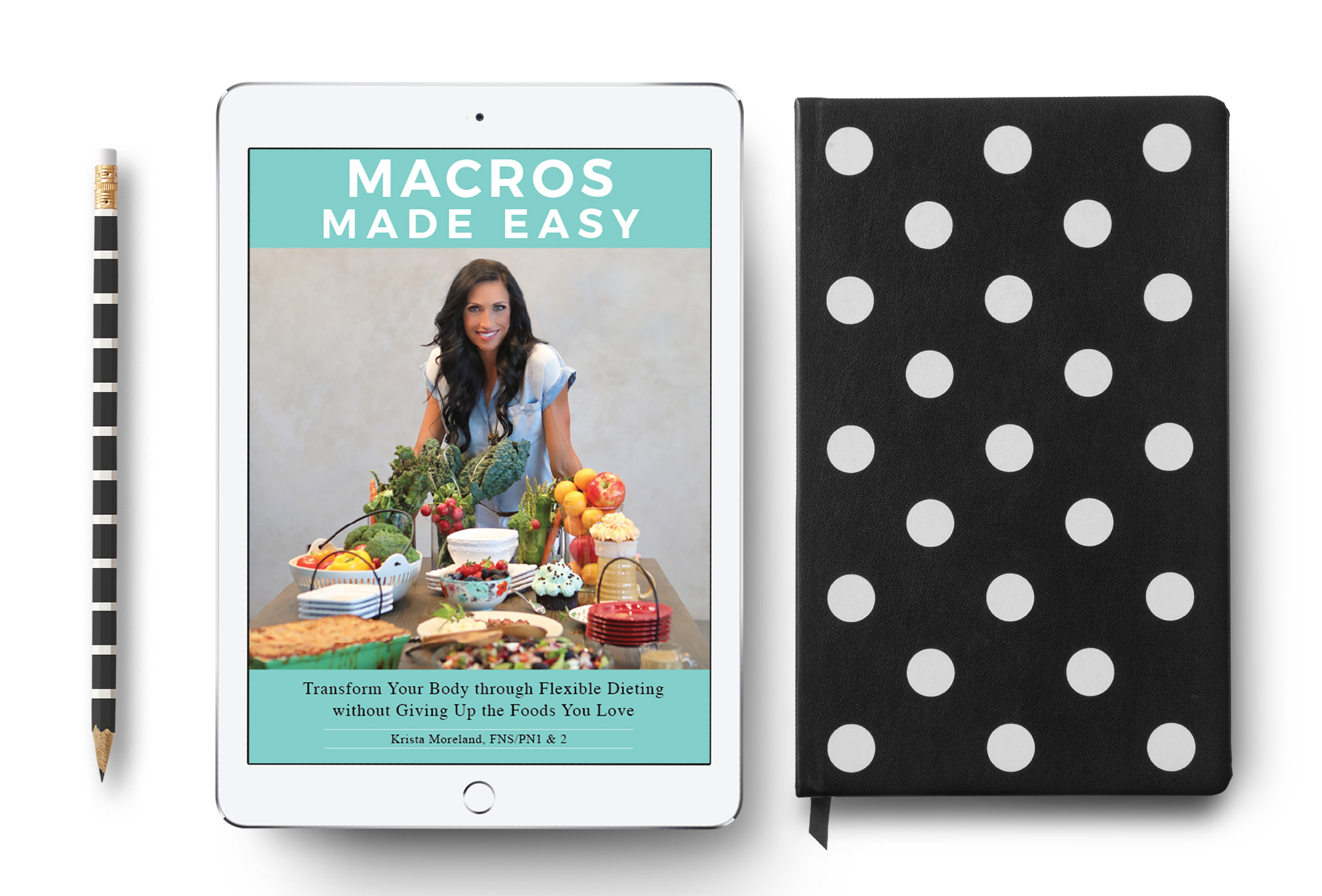 Macros Made Easy eBook
Transform your
body, mind and metabolism
What people are already saying!
1st, your book is BEAUTIFUL!! The design is gorgeous! 2nd, its already helping me.
Did "my why" just now. So insightful!! - Angie S.
It is full of everything!!!! I wish I had that at the very beginning of tracking last year.... its so thorough!!!! SO streamlined. You were always available for questions and the Moreland Macros Munchers Facebook group helped a ton - so much information but man!
This thing has everything every beginner AND current tracker needs all in one place!!!! - Erin W.
Lose weight the right way FOREVER!
Macros Made Easy gives you the tools you need to finally lose the weight and keep it off for good.
Proven weight loss by thousands of everyday Men and Women like you!
Have you ever felt:
Lack of energy

Frustrated with losing weight

Mood swings

Lack of confidence

Lost in the kitchen

Overwhelmed by nutritional information

Struggle with binge tendencies

Fear of failing yet again
Fear of fitting into small spaces
Terrified of breaking furniture

Scared to workout

No time to be healthy

Lack of motivation

Uneasy at social outings

Getting healthy is selfish

Made excuses for your unhealthy ways

Out of breath going up the stairs
Truth is you are not alone.
A recent study shows that 160 million Americans are overweight or obese. All which left unattended can lead to one or more of the symptoms above. These common health problems can turn deadly fast. It's frustrating but true.
But there is a solution.
Here's How Macros Made Easy May Solve All of Your Weight Loss Problems
Macro Tracking is widely used by bodybuilders to shape their physiques to perfection.
I know what you are thinking. "Ummm but I'm not a bodybuilder." I get that but hear me out.
In the past, macro tracking was a tedious pen, paper and calculator method only used by the elite and dedicated. Because of its rigorous and time consuming process, everyday people avoided the lifestyle.
Now, advances in technology have allowed this balanced sustainable way of eating doable and easy for everyday people like you and me.
The problem is few people know how amazingly liberating this way of eating is or how they can quickly, easily and cheaply get started and lose the weight through Macro Tracking.
Is it any wonder then why people turn to expensive and often dangerous quick fixes to lose the unwanted pounds?
We spend 60 billion dollars in America on weight loss. It is important to not only lose the weight but to learn how to keep it off for a lifetime.
But now imagine for a moment:
Feeling Confident In Your Own Skin

Fitting In Your Clothes Comfortably

Adding Years To Your Life

Being Binge & Craving Free

Knowing Nutritional Boundaries You Can Stick to
and now imagine for a moment NEVER having to:
Take A Magic Pill

Drink Meal Replacement Shakes

Abide by Restrictive Food Groups

Bail on Eating Out with Family and Friends

Skip Dessert

Crush Extra Gym Workouts
How much would this be worth to you?
Now suppose you could sit down, read a simple eBook and follow the time-­tested advice.
You create your own food boundaries, and then discover your fit body and life changing confidence.
Sound too good to be true?
Well, it isn't if you have the right advice, know your non negotiables, understand how your body works, and what foods your body needs to find internal balance.
You see, food is medicine.
What you put into your body affects how you feel.
How you feel determines what you do.
Consume the right Macronutrients and you will look think and feel better about you!
The bloat starts to go down, your clothes feel a little looser and your strength reveals itself.
Think about it.
But first...
Who Am I And Why Should You Listen
By now you might be asking yourself, why you should listen to me.
I was able to lose 25 pounds and keep it off for the last 4 years using insights and lifestyle changes found within my weight loss program.
Now I have put those tools into an easy to read, straightforward ebook just for you.
I found balance between all food groups, including fun foods. That my friends is when the real transformation happened.
I discovered how to be a busy entrepreneur, Mom and wife and still keep my health goals.
After an exhaustive search, trial and error, and countless hours sifting through information on Macro Tracking/Flexible Dieting…
I quickly discovered how to:
Improve weight loss

Find internal balance

Renew confidence

Ignite energy

Enjoy mental clarity

Establish habit changes

Create a sustainable way to eat for good
Believe me there is a lot of inaccurate information being shared online. While it might seem harmless, it can actually place you in harm's way.
I want to help you avoid that.
That's why I created the most comprehensive eBook on Macro Tracking/Flexible Dieting, its benefits and its usage.
Simple ways to include this lifestyle in your day to day busy lives.
I've gone through all the hard work of testing it out and sharing all the essential facts, and insights that you could ever need, so you don't have to learn by trial and error.
Introducing
Macros Made Easy:
Transform Your Body Through Flexible Dieting
Without Giving Up The Foods You Love
This revolutionary eBook reveals what you MUST know about Macro Tracking/Flexible Dieting. Its powerful ability to transform your health and physique —naturally with everyday foods!
I've distilled the essential facts that you need to know into an easy practical eBook that will help anyone turn the tide on weight loss.
This method and lifestyle of eating has helped hundreds of people lose the the weight and keep it off for good.
Not only have I lost and kept 25 pounds off for years but many of my clients have lost 100 pounds within the first year of macro tracking.
How?
In this one of a kind ebook you will find how to kick the old ways of thinking about food to the curb.
Then replace those concepts with time tested facts and processes to WIN with your nutrition.
So whether you're looking for a way to:
Discover how to lose the weight for good

Kick binging to the curb

Restore confidence in self

Dramatically improve your health, sleep, energy

Searching for a healthy way to eat balanced meals that makes you feel good
With 'Macros Made Easy,' you'll find all the essential secrets to incredible health and weight loss in the shortest time possible.
See Results within Two Weeks
In fact many women and men, have immediately seen a difference within a couple of weeks of daily planning, tracking and protecting their plan.
You'll be surprised at how quickly you will feel your digestive system improving, your clothes fitting a little looser, fewer headaches and a leaner body — all within a matter of weeks.
Then you'll be astonished when in a few months you see the inches dropping you become stronger, your energy returns, clothes start to look good, binge cravings begin to vanish and food freedom replaces guilty food thoughts.
I know it sounds almost too good to be true, but that's how powerful Macro Tracking and knowing where you stand nutritionally can be.
Literally, in a few months you could be experiencing the benefits of your metabolism revving up. Your weight starts to drop. You can feel balance in mood, hormones regulating and cravings slowly disappearing.
Just take a peek at what's inside this revolutionary eBook
Here are the essential elements you'll learn about in the eBook:
The excuses we give

What we feel

How mindset matters most

A system that works

Three P's

How to Plan

How to Prep

How to Protect

What is Macro Tracking/Flexible Dieting

What are Macros and How to Set Them

The 4 Phases of Dieting and Why They Are Important

What are the best Apps to use

MyFitnessPal Hacks

Incredible real life, real people testimonials

Recipe's

Go To Resources
Here's just a sample of what you'll discover:
The truth behind old nutritional thinking and how it keeps us in the diet hamster wheel

Simples ways to change habits

The most effective way to lose weight without giving up ice cream

The many signs of self sabotage and excuses made that get in your way of progressing

Breakthrough mindset strategies like being 1% better

A whole food approach to weight loss, no pills, no shakes just food

How to squeeze the most out of every Macro, and lose the unwanted pounds

Sure-fire way to plan and prep your meals

The secret to lifelong weight loss, p.s. you are the secret

The number one reason why Macro Tracking/Flexible Dieting trumps all other methods

Nature's amazing desire to keep you in homeostasis and how it involves all 3 Macros

How Macro Tracking can bring your confidence back allowing you to go outside of your comfort zone

The one and only way to effectively set your own numbers

The difference between the 4 phases of dieting and why they are important

Real life insight from real life people who have CRUSHED their weight loss goals

The surprising reason why carbs are not evil

How Macro Tracking can reverse many medicated issues

Why meal prepping is the foundation of success

How to quickly and easily track your food

What you need to know about eating out and making the best choices

Startling facts about how water and sleep drastically affect health

The most delicious ways to eat dessert

Why you should NEVER use the gym or food as punishment

How to cut down gym time and see incredible strength gains

The shocking reasons why you kitchen sabotages your progress

The easiest and fastest ways to meal prep like a boss
And much, MUCH more...You'll be amazed at how simple (yet highly effective) Macros Made Easy is. Look, Don't take my word for it; my customers say it best…
Macros Made Easy is Proven To Work
I have struggled with a Binge Eating Disorder for most of my adult life. I had done every restrictive diet under the sun and always failed. I was convinced that I was just lazy, had no willpower and no control over my binge behaviors. Coming to Krista was my rock bottom moment. The scale was climbing and I was desperate to change my life.
The freedom! Nothing is off-limits - I eat ice cream every night, pizza with my family, etc. I eat food that I love rather than a plan that some list tells me I should. And I am genuinely happy! After the initial learning curve of getting used to weighing and measuring, its amazing how fast my planning and prep come together now. I don't spend my entire day obsessing about food and when I get to eat next.
Flexible dieting is a lifestyle! It always sounds so cheesy when someone says that, but it's TRUE! Other diets always were so frustrating and defeating. Eating food someone told you to, restricting food groups and having to walk the tightrope of rules always ended in binging behaviors and self-hate. Now I have healed my body mentally, physically and emotionally. I have a healthy relationship with food and no longer obsess.
Realizing that I am worth the time and effort to care for body has pulled me from a deeper depression than I had realized I was in. I have a confidence in myself I've never had. Knowing you have the tools to set any goal your heart can dream of is exciting! And inspiring and helping others make these same changes in their own lives is beyond humbling.
The biggest Non scale victory was moving the belt down a notch, then again, and again…may need to buy a new belt now.
I went to Doctor on Tuesday for my 3 month check and he was very very happy with my blood sugar (A1C is now 5.8 instead of 7.2) and my BMI is looking much better. He has taken away one of my Diabetes medicines and wants to see me in three months to see what else we can remove.

Okay, so what's the bottom line then?
That's easy. You're probably already aware that most people don't fix their weight loss and health related issues until it's nearly too late, by then the cost to reverse the damage done can vary from thousands of dollars to dangerous surgery. But I urge you to not wait until it's too late. You also know researching this yourself, could cost you thousands of dollars as you are no­ doubt going to find yourself testing out a lot of bogus products, and heading down roads that lead to dead ends and frustration. Alternatively you could consult with me at $150 an hour, and who knows realistically how many hours it would take to convey everything I've learned. But I'm not going to charge you anywhere near that amount. Your investment for receiving this life changing eBook is only $24.97 And because it's delivered digitally, you can download it instantly! Additionally you get...
A FULL 30 Days 100% Money Back Guarantee
That means you have a full 30 days (1 month) to cycle – and recycle – through all the lifesaving information packed into the eBook. And if, in the unlikely event you don't think the insights in the eBook are worth at least 100 TIMES more than it costs... just let me know... and you will receive a full and immediate refund.
Are You Finally Ready To lose the weight for good and learn to eat for a lifetime?
If your doctor has told you that your health is at risk because of your weight or if you have any of the symptoms above, you don't have a moment to lose. Make the buying decision right now that can transform your health, confidence and life and provide an immediate solution to all your weight loss problems. Is there a better investment you can make than your health? Click the buy button below to order now for only $24.97. You will immediately be taken to a download area, where you will be able to instantly download the eBook on to your PC or MAC. You can be reading this amazing eBook in 60 seconds from now.
Don't you owe it to yourself and your loved ones to be healthy?